Archway Programs will unfortunately be postponing the Designer Bag Bingo Fundraiser which was scheduled on Friday, March 13th, 2020 due to concerns related to the recent Coronavirus (COVID-19) outbreak. Your health and safety is our top priority, which is why the decision was made to postpone the event until a further announced date.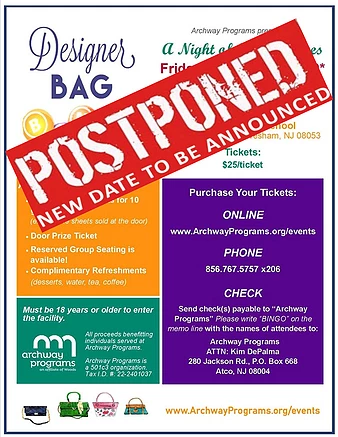 We are currently working to reschedule the event however an exact date is TBD. As soon as we have a new date, we will notify you. Any purchased tickets will be refunded. Please email Kim DePalma at kim.depalma@archwayprograms.org if you have any questions about this process.
We understand that this is a challenging time and are here to answer any questions you may have.
Thank you for your understanding and patience in this matter. If you have any questions, please email us at communications@archwayprograms.org
#ArchwayPrograms #nonprofit #EmbracingDifferences #ImprovingLives #55YearsStrong #fundraiser #SouthJersey