Developmental Disabilities Awareness is celebrated year-round at Archway.
March has been recognized as Developmental Disabilities Awareness Month since 1987 when President Ronald Reagan issued a public proclamation that urged people to provide understanding, encouragement and opportunities to help individuals with disabilities lead productive and fulfilling lives. While there has been significant and positive change in the decades since, many challenges remain for this vulnerable population. In an effort to raise awareness about intellectual and developmental disabilities (I/DD), communicate the importance of inclusion and share stories of individuals with disabilities, Archway joins the National Association of Councils on Developmental Disabilities (NACDD) this month to help expand the conversation of inclusion and accessibility to celebrate the work being done and improve the lives of the I/DD population.
"Intellectual and Developmental Disabilities Awareness Month is a great opportunity to educate our communities about the challenges that this population faces in their day-to-day lives, so that others can understand the importance of community inclusion," said Director of Human Services Mickie Patetta.
Since 1965, Archway has been a strong advocate for community inclusion and today the nonprofit continues to raise awareness about the inclusion of all people in all facets of community life. Developmental disabilities occur among all racial, ethnic, and socioeconomic groups. The CDC reports that recent estimates in the United States show that about one in six, or about 17%, of children aged 3 through 17 years have one or more developmental disabilities. According to the Centers for Disease Control and Prevention (CDC), developmental disabilities are defined as impairments in physical, learning, language or behavior areas, and include:
Autism spectrum disorders
Cerebral palsy
Attention-deficit/hyperactivity disorder
Learning or intellectual disabilities
Hearing loss
Vision impairment
Other developmental delays
The people who provide care for the I/DD population are referred to as Direct Support Professionals (DSPs). At Archway, both DSPs and Community Home Management staff work together to provide integral, daily support to people living with intellectual and developmental disabilities (I/DD). Staff works side-by-side with Archway clients and residents to ensure that they lead safe, meaningful and fulfilling lives in their communities. They are very essential to individuals with I/DD as they assist with all aspects of life, including but not limited to daily living skills such as getting dressed, bathing, cooking meals, exercising, and cleaning, as well as medication management. DSPs also drive clients to and from day program, the pharmacy, activities and any medical appointments.
Archway prides itself in providing daily living supports, high-quality services, compassionate care, and a safe, family environment for all of its residents and clients. Throughout this pandemic, it's been very difficult for individuals living with I/DD, especially those who do not live with their families. Up until recently outside visitors have not been permitted which has been challenging for both residents and their families. Archway staff has gone above and beyond during this time to not only ensure the health and safety of its residents but also lift their spirits.
A longtime Archway resident, Angela (Angie) Gallimore, has been part of the Archway family for twenty-eight years. Angie currently resides at one of Archway's Residential Community Home located in Voorhees, New Jersey. She is originally from Atco, and grew up in her family home with her parents, her sisters (Cindy, Mary, Laura and Diane), and her brother (John), before moving into Archway's Residential Community Home. Angie's family is very close and is actively involved in her life to this day.
"My daughter Angie was born on June 30, 1959. She is developmentally disabled with Cerebral Palsy. She grew up with my wife and I and her five siblings before moving into Archway's Residential Community Home in 1993. It is with great fortune and privilege to be Angie's father. She has changed my life by how sweet and caring she is. I am also very fortunate to have her at Archway with the sweetest and friendliest caregivers. My life would be so different without my sweetheart Angie. Everyone who meets her loves her personality. Her personality makes you feel so happy. On behalf of my family, I would like to thank Archway for being such great caregivers to my daughter," said John Gallimore, Sr.
Angie is the type of person who is always happy, smiling and laughing. She is a joy to be around and if anyone around her is feeling low, she instantly cheers them up. Angie genuinely cares for others and it shows in everything that she does. Her roommates and Archway staff each described her as a ray of sunshine and they know how much her family means to her. In fact, Archway staff helps Angie connect with her sister Diane, who isn't local, every day.
"I live in Florida and I cannot thank the staff at Archway enough for helping Angie Facetime with me daily. These calls are my favorite part of the day. I love receiving photos of all the different activities she is participating in. A recent picture I got was of Angie making Irish potatoes with staff and her housemates. Angie loves Irish potatoes, our mom use to make them all of the time. She loves being at Archway and our family couldn't be more grateful for everything they do for my sister," said Diane Kondraschow.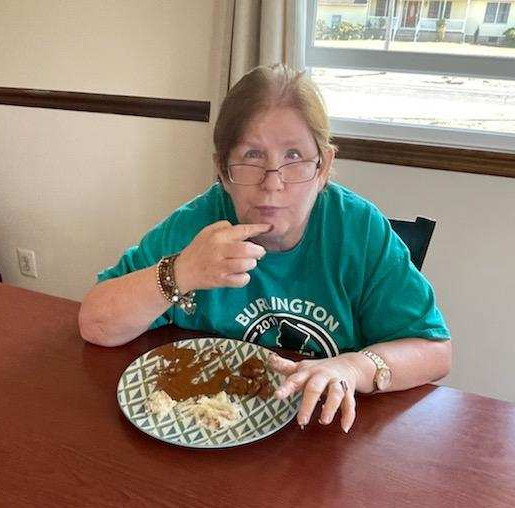 Angie Gallimore (Archway resident) enjoys Irish potatoes, a childhood tradition that she now shares with her Archway family.
Archway's Human Services Department strives to help others help themselves. Just of few of the programs and services offered to individuals with I/DD include:
Residential community homes provides life skills and supports for those who need 24-hour care. Staff provides assistance with daily living, community inclusion and participation, recreation choices, self-care, household management, budgeting/financial management, and reaching individual goals. Archway currently has several community homes located throughout southern and central New Jersey.
Supportive Living is a program that offers assistance to individuals living independently within their communities or with their families to maintain their independence.
Respite services togive primary caregivers some time away from caring for their family member. Archway offers Saturday Respite on its main campus in Atco, New Jersey; in addition to Agency Respite to families in the comfort of their home.
Positive Encounters offers supports to youth and provides respite to foster parents and guardians. This community-based program is comprised of a team that coordinates weekly age-appropriate activities designed to provide recreation while at the same time enhance self-esteem and socialization skills.
Outpatient partial care services are designed to meet an individual's treatment needs in the least restrictive environment possible. Services may include: group and activity therapies, clinical and educational assessments, medication management. Archway offers three partial care programs serving youth (HOPE/DISCOVER) and adults (ACT) at its Washington Township facility.
Supported Employment providescareer training andsupport to prepare adults for prevocational training, community-supported employment and assists with pre-employment day programs.
In addition to the programs and services listed above, Archway has a social enterprise business, Blue Violet Flowers and Gifts, that employs individuals with disabilities, and offers Archway students opportunities through the schools' Career Education Program. Archway believes that very individual should have access to fulfilling and competitive employment opportunities. This not only provides individuals with a sense of purpose, but it also promotes community inclusion and understanding.
The flower shop recently started carrying a line of products called 'Carissa's Creations' which features artwork and hand-crafted gifts made by local artist and Archway client, Ms. Carissa Stark. Carissa started out as a volunteer at Blue Violet to gain employment skills and gauge her level of interest at the store. She quickly became an official Blue Violet employee and Archway is proud of her hard work and dedication.
"I am so grateful to Archway for giving me the opportunity at Blue Violet. I'm honored that my work is being displayed and sold in the flower shop. I feel like I have a purpose being able to come in to work. Crafting gives me peace of mind and helps me work through some of the challenges I face in life. Knowing that I'm able to spread joy to others fills my heart and makes me feel whole. Whether it's through a smile, a simple hello or through my artwork, feeling like I've made some kind of difference is so inspiring," said Carissa Stark.
The feeling is very mutual. Carissa has made quite an impression not only with her line of 'Carissa's Creations' but also with her exceptional customer service skills and contagious positive attitude.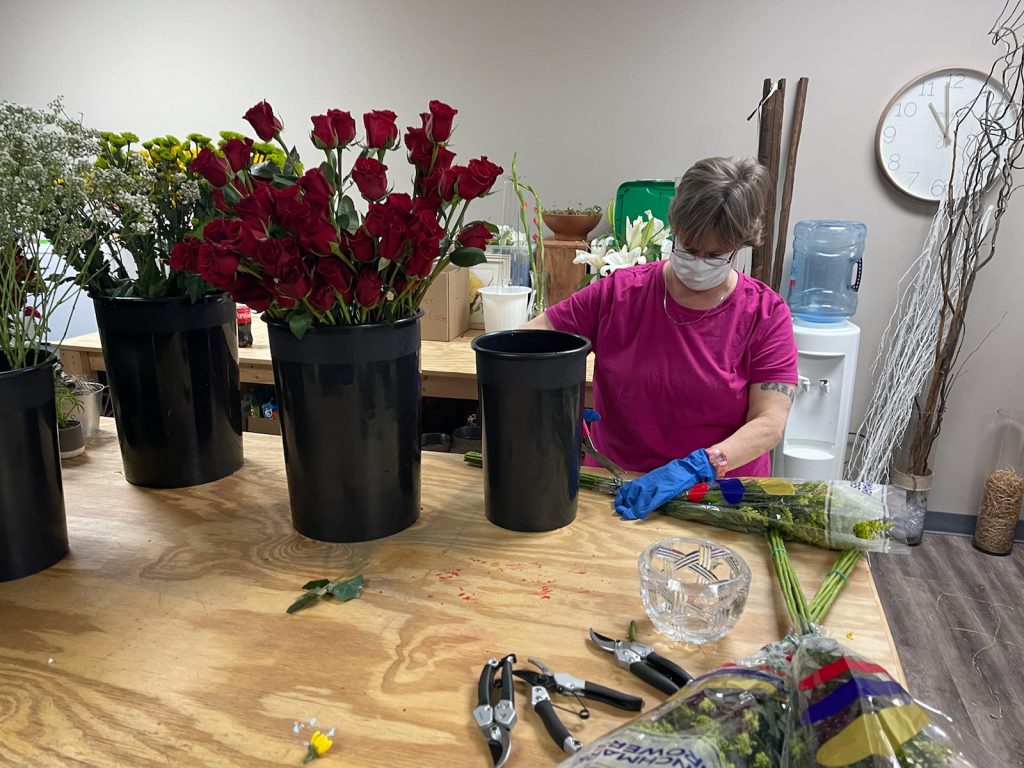 Carissa Stark, Blue Violet employee, puts the final touches on a personalized floral bouquet.
Archway believes that very individual should have access to fulfilling and competitive employment opportunities. This not only provides individuals with a sense of purpose, but it also promotes community inclusion and understanding. Archway encourages the community to celebrate the many contributions of people with intellectual and developmental disabilities (I/DD).
For more information on how Archway can help your loved one, visit www.archwayprograms.org.